Dueling Opposites: "What Happened, Miss Simone?"
In the new-to-Netflix documentary "What Happened, Miss Simone?" which premiered in January 2015 at Sundance, Liz Garbus details the life of the legendary musical artist and activist Nina Simone. Rather than relying on the testimony of others to craft the narrative of Simone's life, Garbus lets Simone speak for herself through audio interviews, diary entries, and performance footage. In one sense, the film is a testament to Simone's undisputed place among the greatest musicians of the last century, but in another, it is a window into the pained, lonely, inspiring life of a woman living with bipolarism. She contains multitudes.
Garbus begins at the start of Simone's life, her early childhood, when she was known as Eunice Waymon, a young piano prodigy living in North Carolina, where Jim Crow still had a firm hold. She trained as a classical pianist with dreams of becoming the first black woman to play Carnegie Hall. Her training was rigorous and consumed nearly all of her time outside of school—Simone describes this experience as alienating. Because she was so disciplined in her classical training, she was unable to form friendships with other children her age. She was at once a child and an adult, a small girl longing for her peers but driven by a greater, far-reaching ambition. When she later applied to study at the Curtis Institute of Music, she was denied admittance on the grounds of her race. Those close to her say that she never got over this rejection, and it was her first brush with the profound alienation of racism.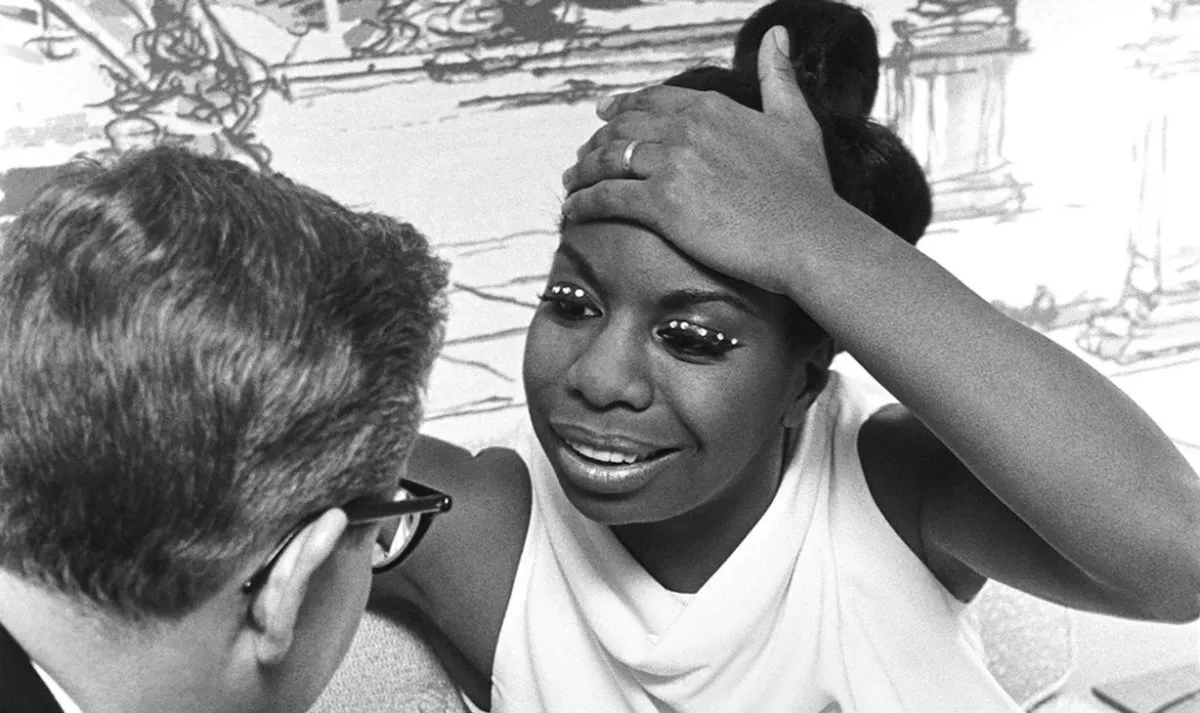 She instead took a job out of necessity as a jazz singer on the Atlantic City boardwalk, under the pseudonym Nina Simone to save her family from embarrassment. With this second name came  a second identity. From the boardwalk, she catapulted to success as a pop artist, recognized for her arrangements of folk songs and standards and her rich, husky tenor. She remarks, "Sometimes I sound like gravel and sometimes I sound like coffee and cream." She eventually realized her dream of playing Carnegie Hall, only as a pop artist instead of a classical pianist.
Over the years, she transformed from a jazz artist to a fierce protest singer, running in the same circles as Malcolm X, Lorraine Hansberry, and even Dr. Martin Luther King, telling him, "I'm not nonviolent," to which he replied, "That's okay, sister. You don't have to be." She assumed her role in the Civil Rights movement as artist/activist with fervor, drawing on a deep well of anger to fuel her songwriting and performance. One of her most famous protest songs, "Mississippi Goddamn," written after the 16th Street Baptist Church bombing, was denied radio play, but that only empowered Nina to pour every ounce of her energy into her performance of the song.
Simone explains, "Nightclubs were dirty, making records was dirty, popular music was dirty and to mix all that with politics seemed senseless and demeaning. And until songs like 'Mississippi Goddam' just burst out of me, I had musical problems as well. How can you take the memory of a man like Medgar Evers and reduce all that he was to three and a half minutes and a simple tune? That was the musical side of it I shied away from; I didn't like 'protest music' because a lot of it was so simple and unimaginative it stripped the dignity away from the people it was trying to celebrate. But the Alabama church bombing and the murder of Medgar Evers stopped that argument and with 'Mississippi Goddam,' I realized there was no turning back."
Later on in her career, she refused to sing any of her hit songs and chose to only perform her protest songs. She believe her function as an artist was"…to make people feel on a deep level. It's difficult to describe because it's not something you can analyze; to get near what it's about you have to play it. And when you've caught it, when you've got the audience hooked, you always know because it's like electricity hanging in the air." And the power in Nina Smione's ability to radiate such electricity is nowhere more apparent than in recordings of her performance.
Oh but this whole country is full of lies
You're all gonna die and die like flies
I don't trust you any more
You keep on saying "Go slow!"
"Go slow!"
–Nina Simone, "Mississippi Goddamn"
Her fixation on protest songs didn't please her husband-manager Andrew Stroud, who was more focused on making money than supporting the Civil Rights movement. Their relationship was full of tumult and destruction—he was physically abusive and emotionally manipulative. Her life was filled with anger and violence, a cycle that she eventually perpetuated, committing abuses against her daughter, Lisa. Simone was only later diagnosed with bipolar disorder, which explained her erratic behavior. Those close to her say that her fight for equality and her anger toward racial injustice may have literally drained her of her sanity—she sacrificed her mental health and well-being to occupy the role she believed she was destined to fill.
Eventually, activist burnout took a toll on Simone, and she moved to Africa, leaving her life in the United States behind. She relished her time in Africa, for her a return home, but because her husband controlled her finances,
she was left without a way to support herself. She moved to France, where she sang at clubs for a paltry sum unbefitting of a music legend. Simone gave an interview during her time in France in which she said, "There aren't any Civil Rights." When asked for clarification, she said, "There is no reason to sing those songs, nothing is happening. There's no civil-rights movement. Everybody's gone." The assassinations of Dr. King and Malcolm X left Simone alone in the fight.
When she was finally diagnosed with bipolar disorder, her family and friends offered her the chance to regain her musical career if she would agree to take medication that her doctors prescribed. She did, and made a comeback that many had not thought possible. Three days before her death in 2003, she was awarded an honorary degree from the Curtis Institute. And although she was bestowed many accolades and maintains a position as one of the most influential artists in American history, her achievements did not come without consequences. Nina Simone suffered great loneliness for much of her life and threw all she had into her music and her fight.
Her life was full of conflict, dueling opposites. She was at once classical pianist Eunice Waymon and jazz artist
Nina Simone. She was an artist and an activist. She experienced periods of fervent mania and deep depression. She was abused and carried out abuse. She had endless compassion for the oppressed and utter contempt for the oppressor. Ultimately, it was these contradictions, these multitudes contained within her, which made her such a captivating artist and powerful protestor.
Still, despite her concern toward the end of her career that her most important songs were no longer "relevant to the times," Nina Simone's words ring just as true now in our nation's renewed fight against racism.
References:
What Happened, Miss Simone?

, Dir. Liz Garbus

"Mississippi Goddamn," Nina Simone

http://www.nytimes.com/2015/06/24/movies/review-what-happened-miss-simone-documents-nina-simones-rise-as-singer-and-activist.html?_r=0

http://www.latimes.com/entertainment/movies/la-et-mn-what-happened-miss-simone-review-20150626-column.html